After my old big speakers slowly died and just took up too much space, I looked for smaller active speakers. In a for me rare occasion, I did online shopping and ordered different pairs of speakers home. In this environment, I tried to do a blind test to find which speakers fit my home, budget, taste of music and technical requirements best. So I ended up with a pair of Nubert nuPro X-4000.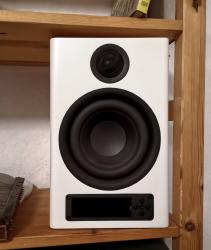 I like their clean look. With clean I mean that there is no promiment logo, although an eagle-eyed person will spot the logo at the bottom of the tweeter. Even the display can turn off after a short while. Really nice! It's a speaker that stays visually in the background, not a status symbol. Instead, it delivers on its sound: As subjective as this is, I like it, with the big depth the speakers create and their precide mid and high reproduction. It's not too analytic, has sound for the price and enough inputs for my needs. As a set of speakers at home, not studio monitors, I like the possibility to gang together a pair of speakers wirelessly or by wire. The wireless more incurs a latency of "< 20 ms" according to the data sheet. I could measure how much it actually is, but since I like my audio chain to have as little latency as possible, I chose to use a cable.
But what's inside, you ask? Let's have a look and lift the lid – err, active amplifier module – on it!
Burr-Brown SRC43821: Sample Rate Conversion
D2Audio D2-92634-LR: audio processor, DSP, Class-D amplifier modulator
STM32F030: micro controller
TI PCM1863: ADC, 2 channels, 24 bit, 192 kHz sample rate
TI DRV603: click-free audio output driver (for the subwoofer output?)
XMOS XU208-256: micro controller with USB; xCORE 200 series (labelled: U30870C10, GT173501)
The amplifier itself is a Class-D amplifier. The D2-92634-LR is probably used as a modulator that creates the PWM signals that drive the output stage on the backside (probably some power MOSFET bridges). That stage is coupled to the backplate that doubles as a heat sink by a piece of metal. In addition, there's a pair of really beautiful inductors that smooth out the PWM signal close to the output stage.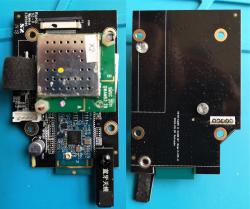 Let's look at the one weird part of the speaker: The wireless module stack. It's not a single PCB, but a carrier PCB with two additional modules, one for Bluetooth, one for the wireless audio link. When you try to unplug the Bluetooth antenna, you'll notice that it's held in place by yet another small PCB, the one with Chinese characters on top. I've never seen such a connector get loose, but well. Better safe than sorry, I assume. The bluetooth module itself is some off-the-shelf module, although Nubert decided to use an external antenna instead of the integrated one. I didn't check whether the Bluetooth module outputs audio as analog or digital signal. Most of these modules only output an analog signal. Not that this matters much, since the supported Bluetooth codecs (SBC, AAC, aptX) don't come close to "CD quality". SBC has really low latency, but sounds similarly bad as GSM. I wouldn't even use this for voice. AAC is more modern than MP3. aptX is easily discernable from CD quality, still. In addition, the speaker will beep when you select Bluetooth as input and a devie then connects to it. Like a cheap 5 € AliExpress Bluetooth module. Finally, in a set of stereo speakers, both speakers are visible via Bluetooth, even though the slave speaker is fully remote-controlled by the master speaker. That's just confusing.
The last PCB we'll take a look at is the module for wirelessly ganging together a set of speakers: It's a DWAM83 module by Microchip. The module seems to be an all-in-one solution that effectivly gives the system integrator a reliable channel to transport uncompressed audio. The datasheet doesn't say whether it's 16 or 24 bit audio and what the sample rate is, though. Also, latency is spoecified as "< 20 ms". When I tested it, it worked fine. Yet, I don't like the unspecified latency.
We've talken a look at most parts of the active speaker. I didn't take apart the display and transducers. I have to say, I pretty much like the build quality of the speakers. Only the wireless communication module is a bit odd.