The Tektronix 465B is a classic vintage analog oscilloscope. It is older than me and equipped quite well with its 100 MHz bandwith and dual timebase. It features a silent fan (yay) and immediate feedback — it's analog. ;) At the right time base, it delivers up to 360.000 Wfm/s, much more than most digital oscilloscopes out there!
Repair log
17th of May 2017: Varying trace brightness
I tried to fix my broken Tektronix 2440 when the 465B also decided to stop working: The trace started flickering and brightness sank so much that I couldn't see a thing, even when I cranked up the brightness to the max. It did this before, too, but only briefly. So, why now? And why at all?!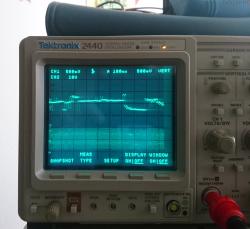 After I repaired my 2440, I could resume working on the 465B. You need a working oscilloscope to fix an oscilloscope. All of the following description revolves around circuit diagram 11 of the 465B service manual. I also got a high voltage probe (only a few kV) and started my quest. I quickly determined that TP4217 was unstable. It directly controls the trace intensity, including blanking. Also, waveform 93 was weird. Instead of being a smooth voltage, it was incredibly noisy.
To understand how the blanking circury works, I rebuilt it in LTSpice. The simulation closely matches the measurement in figure 3-11 B in the manual. Piece by piece, I got closer to the source of the problem. The high voltage on the anodes of the CRT complicated that, I couldn't safely measure every point in the circuit. So I replaced parts that I suspected to be broken, without luck.
Now I knew that all the parts that I suspected to be broken were intact. Not enough parts were left when I discovered that even the voltage on the cathode of VR 4108 was fluctuating. Huh? Also on R4108, which gets its voltage from a voltage divider pot. What?! I isolated the pot: Yes, the output was unstable, even though its supply voltage was stable. Hard to believe, also because the pot is built on nice ceramic substrate. I swapped it with a cheap one, the only one I got: Tada, the trace was back and stable.